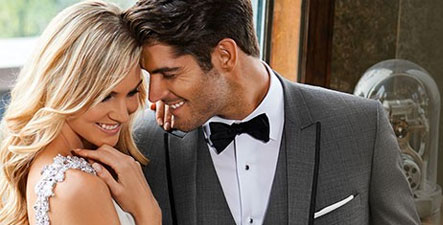 No matter what the occasion, renting a tuxedo is a fantastic option! For a highly anticipated wedding of you, a family or a friend, we make the rental looks like it belongs to you! Clients can choose from the same high-end brands that we have for purchase. We taper and customize each rental to make alterations custom to the client, whether it be just you or an entire wedding party!
Tuxedo rental packages are reasonably priced. Our packages include the jacket, shirt, pants, vest, and tie. Schweon's has a variety of both classic and trendy looks that can be accented with a splash of color. There is never an additional charge for unique vest colors. Schweon's remains true to the price and true to the best quality, every time.
Purchase packages are available for wedding parties. They are available for $325-$425 and are complete including alterations.
Service is always efficient, friendly, and personalized. You can expect to be greeted by name and asked how the special event went. Anytime you walk into Schweon's to rent or buy clothing, they will make you look and feel special. You will always receive a warm welcome from our family, who is always here to make your day and take the best care of you.