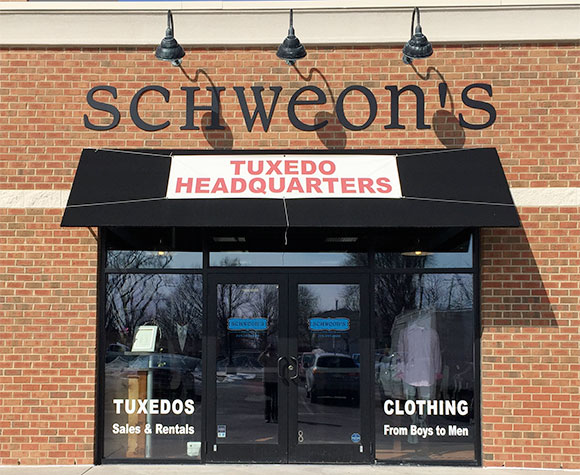 Finding a store that provides high-quality clothing can be difficult, especially when the products offered are standard and poorly fitted. Schweon's Clothing and Formal Wear is the ideal place to go when you are looking for superior attire; the store is a family-owned and operated business that provides a wide selection of both casual and formal clothing for men and boys.
The owners, Alan and Jackie Schweon, opened the boutique in 2006 and have consistently provided the best men's clothing services in the Philadelphia area ever since. Having been in the clothing and fashion business for over 30 years, the Schweons have developed a keen eye for great styles, brands, fits, and the latest trends. Their expertise and excellent relationships with clients are incomparable.
A visit to Schweon's is always a unique buying experience. Unlike big-box stores, Schweon's inventory changes over daily so that they may offer the most current styles to their diverse clientele; this applies to the tuxedos available for purchase or rental, as well! Fast turnover ensures the latest styles and fits. Customer satisfaction is always top priority. Each individual receives his own tailored and custom look and will surely stand out from the crowd. There is no worry of encountering someone wearing the same outfit—your personalized attire will set you apart as a fashionable and unique individual.
The Schweon's pride themselves on customer service at the highest quality and come to know their clients by name. Their knowledge and unique, personal relationship with each of our clients help us guide them in the right direction, no matter what their need. Whether a young man looking for a prom tuxedo or a professional look to impress at a career fair or job interview, or if you're looking for a great gift for your husband, children or son-in-law, Schweon's offers suggestions suited to the clients' personal styles!
The friendly assistance, unparalleled selection of attire, and professionalism of Schweon's have truly made the store and family part of the fabric of the community. Whether a special event – bar mitzvah, prom, wedding- or everyday wear, you know the where to go for the best look and the warmest service.